Today when I went to check the mail I discovered a package from a friend in Minnesota! I was so happy (I had been anticipating the package as I had asked her to pick something up for Jacob that I couldn't find here) and when I opened the package there was a summer romper that I had commented on (because she bought it for her son). I was so excited and it was the cutest thing ever!
The one item in the package was a onesie I had wanted for Jacob from Old Navy so that he could wear it on Valentine's Day and also to Baby Club that week! It's super cute and I just love it!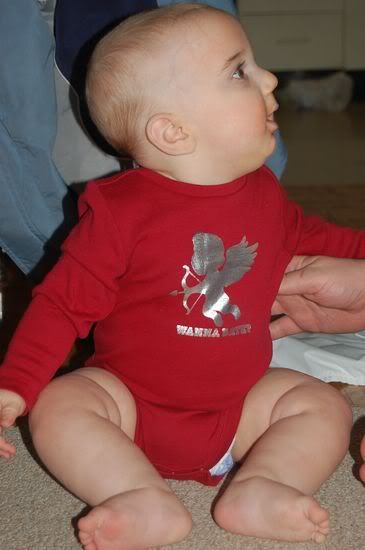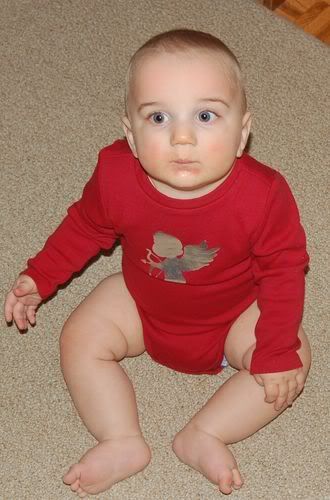 The second item (the gift she sent us) was the romper and it's just to die for cute! I couldn't get the best pictures but I'll show you them anyways! There are some really bad shadow's that makes the outfit hard to see!
Anyways the point of this blog entry is to say that its important to remember that doing something so small for someone can really make their day! I was having a miserable day having gone to the dentist for the first time in a year (OUCH MY TEETH HURT) and Jacob is still miserable from his teeth! His face is read and rashed like crazy and he's just gnawing away on his fingers still! This package from my friend in Minnesota and her son just brightened my day. I want to be reminded about that feeling so that I remember to do good things for other people – to hopefully bring light into their down days. It only takes a little extra push to do something good for someone – so that's my new goal….do something good for someone at least TWICE a month! It should be more then that – and it probably is but I think that's a good goal! I want to remember how good it feels when people do good things for me – and then I want to pass it on!
In other news….Jacob learned to clap last night! How exciting! I said yesterday that it had been a crazy week of new stuff for Jacob and then he just needed to add one more then to the list! Make that two things! (I'll get to that in a moment). So he has been clapping away all day – because he knows that we will look at him and cheer when he does it – and any attention he gets from us is worth it I suppose. In the car, in the mall, in the dentist office, being changed, on the floor….he is just clapping away. It's really adorable to me – he holds his hands up high (as you can see in the picture) and his left hand is turned backwards – he brings the back of his left hand to the palm of his right over and over again with a GIANT grin on his face as if to say – look how great I am! Check me out! I love him.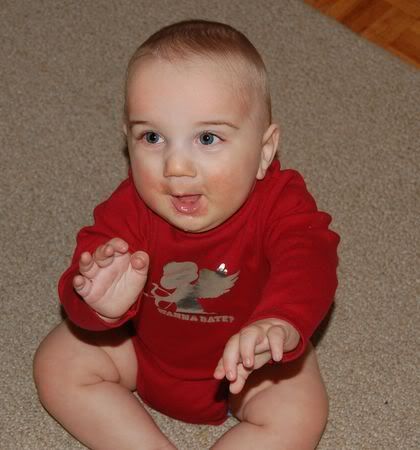 The second new thing he learned yesterday was to give smooches to BoBo! BoBo is his stuffed teddy he received from a friend of Mike's and he loves it. It's a simple hand crocheted teddy and we call him BoBo! Well when we give Jacob a kiss we will always say "give smooches to Mommy" and then we would kiss him! Yesterday I gave a kiss to BoBo and said "Jacob give smooches to BoBo!" and he leaned forward, with mouth wide in excitement and planted a big wet kiss on BoBo's crocheted face! It make me melt everytime he does it – I be he's wondering why we are making him "make out" with the teddy bear – poor kid!