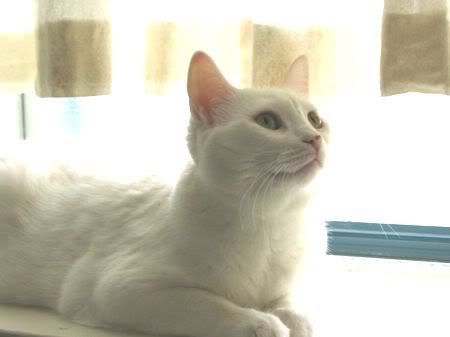 Today we had to take our cat Ellie to the veterinarian's to be put to sleep…..I cried hard.
I got her when she was just a newborn, 5 years ago and named her Arielle which later got short formed into Ellie. She was a good cat and she loved to spend time with me – she was always very skittish around other people but she came to know and love Mike too. We suspect Elie had cancer and we fought really hard to keep her alive for the past 2 months…we spent a lot of money going back and forth from the veterinarian's office, doing home IVs, medication, special food but alas she continued to deteriorate and the past two days she has been struggling for life. I miss her already. I could not bare to watch her suffer as I feel she had been the past 2 days – she could hardly walk and she was vomiting like crazy – she wasn' t strong enough to lift her head and so she would lay in her vomit – I would clean her up but she'd do it again….
It was hard to watch her pass on from this life but I felt I could not let them do it without me present…I talked to her and told her how much I'd miss her and how much I loved her while she died….I wish there was something more I could have done…to make life easier on her these past 2 months….
I hope she is at rest now….we'll miss you Ellie…..