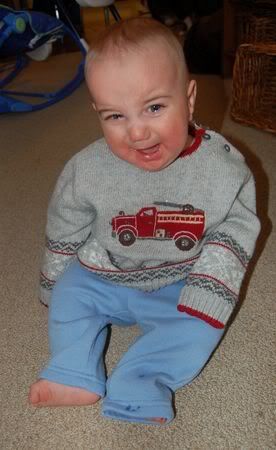 Look at my poor child! He is not a happy camper with his mommy in this picture! I was trying on some clothes that we had purchased recently to gage when I suspected he would fit into them and he got super tired and frustrated! He did NOT want to try anything else on….it all ended with the above sweater which I had purchased for him for next fall. I promise Jacob…from now on Mummy will only make you try on ONE thing per day. Ha ha!
I'm trying hard to do better with the clothes shopping for Jacob – between his grandparents, gifts and the stuff I buy I hope that Jacob will get some wear out of his clothes this summer and we won't have a closet full of stuff that goes unused. So far I've done a pretty good job of making sure that Jacob wears everything that I've purchased or that he's received as gifts but this summer I'd like to have a wide variety of tops, then some basic bottoms, and a few rompers and special outfits! Some of the stuff that we have gotten him for the summer is still REALLY huge on him…like these rompers for example…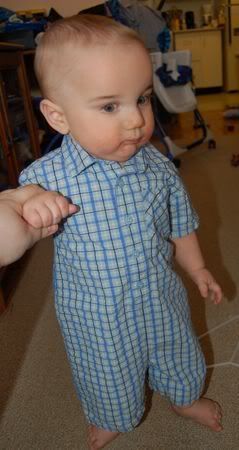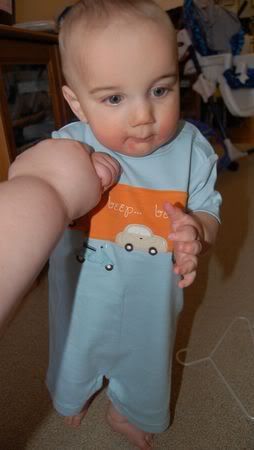 If he doesn't grow some by the summer he will spend his days in these romper gowns as I like to refer to them. I am sure he will do some growing between now and then but there's a lot of room to grow in those outfits for sure!
Our most favourite new summer clothes are on their way here from Florida! My mother picked him up almost the entire new line from gymboree called Little Rome! It is to die for cute! I mean totally cute and awesome! The above romper with cars on it is from that line as is this shirt here that I had Jacob try on…(dont mind the pyjama bottoms..ha)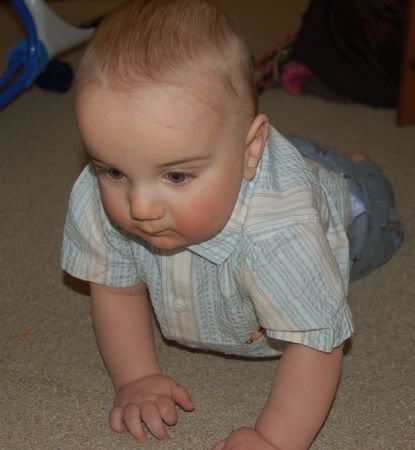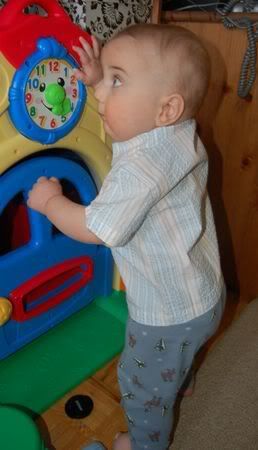 Lastly I want to share two pics from the Under the Sea line at Gymboree that I am just in LOVE with…so much in love with it that I went today and bought it in a different colour!
Maybe when I go back to work I'll something more to do with my time besides take my baby and go to the mall! Haha….