Yesterday I took some new pictures of Jacob – and when I was reviewing the pics on the computer it occured to me that he was slowly moving away from being my little baby and quickly becoming my little boy. I found myself staring at the pictures in disbelief, as if time had snuck in overnight and snatched away the small baby I had brought home from the hospital -I use to dream that those days of complete dependence on me would last forever – now I realize to think that way is to live in a sort of deceptive state – I hate deception.
In the first of the pictures Jacob is wearing a navy tee that is clearly too big for him – his arms are swimming in it and it is hanging down from his neck. The picture is a close up of his upper torso and head and when I look at this picture – I feel like I know exactly how Jacob is going to look when he is 2, 3, 4 years old – I imagine that face lit up in a smile the first time he see's a candle glowing on a birthday cake, or perhaps the first time he see's the monkeys at the zoo – he couldn't have a more beautiful face. The picture just radiates – and I can't help but fall in love with him a little bit more every time I look at it. I'd love for his face to stay that way forever – but I've already been fooled by the deceptive thought that he could be ageless before – I wont' fall victim again.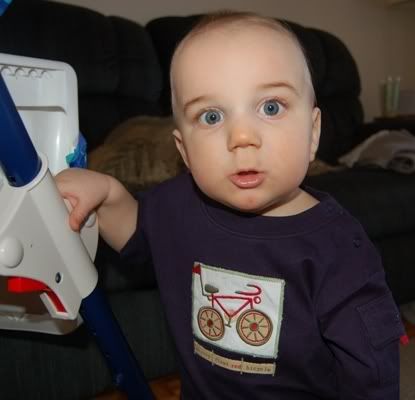 In the second picture, Jacob is sitting on the floor turning the pages of his Belly Button book and I stare at this photo in disbelief – as if it is fast forwarding me to a world of school books and homework – and I find myself wanting school time to never arrive – thinking about school reminds me of all the separations we'll have in life – school being one of the good seperations – but still he will be there and I will wonder "what is Jacob doing now?" and I will suspect that perhaps he is painting me the most beautiful picture of a cat with no tail and two stick people that will have huge heads – and he'll tell me they are Mommy, Daddy and Chloe the Cat – and I will be proud and hang it on the fridge – feeling proud of myself for producing Picasso. It's funny how simple photographs can launch our minds into the future in a way we never thought possible before – I look forward to the future as much as I look forward to turning my head this second to watch Jacob fail once again at gettign Chloe's tail tight in his grasp – Kitty 3 Jacob 0.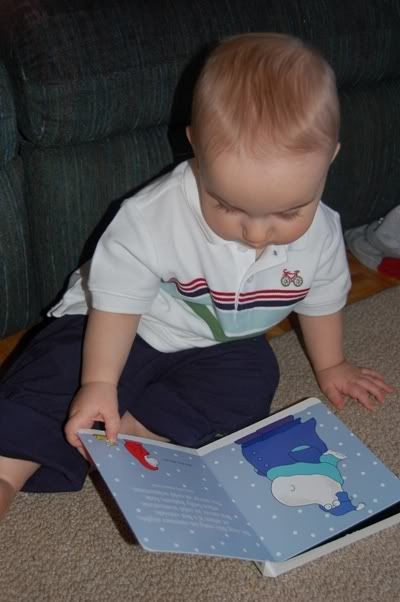 In the last picture, Jacob is standing holding on with just one small hand – gripping his highchair and looking dutifully at the camera – as if he's saying yea yea Mama…take the picture so I can resume playing please. Looking at this picture, I am not catapulted too far into the future – because when I look at this photo I am reminded that at any moment, his hand will let go of the highchair and he will stand there – shocked, excited, nervous – perhaps he will be confused about how he managed to stand all by himself without falling and then we will all realize that walking, (the milestone that to me differentiates and infant with a toddler) is just around the corner. I don't imagine that this will happen too soon before his first birthday but then I never imagined that he could learn to crawl, sit up on his own, pull to standing, and cruise along furniture all in a matter of 3 weeks – I'm not sure if I'm ready for walking – can you give Mama a little more time Jacob?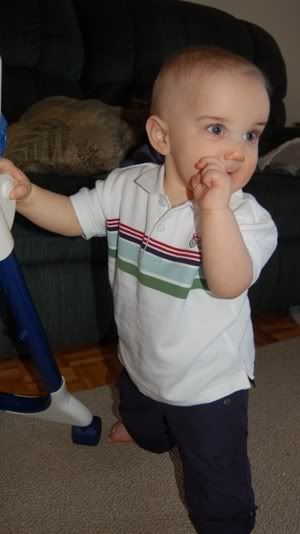 What is most remarkable about these pictures is that while they launch me into thoughts of the future, I am reminded of who he is now – He is perhaps the most curious baby I have ever encountered, he is smart, he is loving, he is gentle, he is caring, he is ambitious, he is brave, he is an adventurer, he is timid – he is all those things – and he is ours – He is ours and I love that.
He is ours and he is sitting by the window, trying to figure out how the wheels on his train work….I think I might indulge a little and let him show me how they spin.