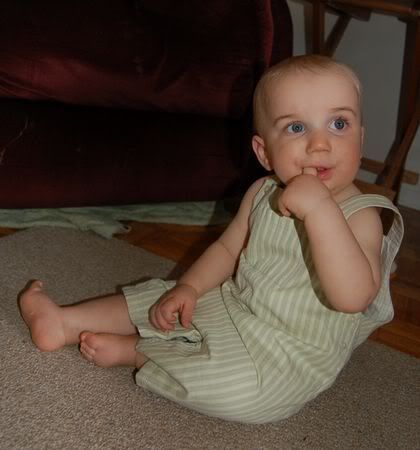 We received a pair of overalls I had purchased through ebay in the mail yesterday. I totally expected that they would fit now but its clear he has a lot of growing room in them. I guess its not all too bad because I would like for him to be able to wear them to Church this summer. I am hoping that his cream polo onesie that he wore for Easter will continue to fit him through the summer because I think it will be a good match if I can't find the actual onesie that goes with the overalls on ebay.
I got these overalls for a STEAL price and I'm not ashamed to say that. They were brand new….never worn. I'm proud. After his nap when I tried the overalls on Jacob he crawled around the apartment, standing, sitting, squating, crawling as if he was showing the overalls off to me and the cat – as if he was saying Mom i love these overalls. They are my most FAVOURITE overalls ever – and then I remind him that they are actually shortalls and that it's time to take them off….He's not that fond of this idea and passes out instead – sound asleep so that he might enjoy the overalls just a little bit longer.

I put him in his crib and watch him sleep for a minute or two and I feel like he's brand new again, like its June and I'm peering over his crib and he's 2 weeks old. The phone rang and brought me back out of my daydream and for a brief moment I was sad because I want to remember him as my newborn forever.