Have I told you how much I love Jacob? I love him….A LOT – I love that he can make me laugh and smile EVERYDAY. I love that….I just love that he makes me so happy. Yesterday we were trying on some new summer clothes to see what will fit and what needs to be returned or exchanged and when I was reviewing the film – it was remarkable to see how many different facial expressioins Jacob was making over the course of a 15-20 minute photo shoot. THIS is why my life is so filled with excitement and laughter because when you look at this child – how could you not just smile? Here are some samples from our pictures yesterday!
THE HEY BABY…HOW YOU DOIN?
People are always saying that Jacob is such a little flirt! I hope he's not flirting with his Mama!
THE THINKER
He was so focused on hitting the two balls together that I couldn't get him to look at the camera.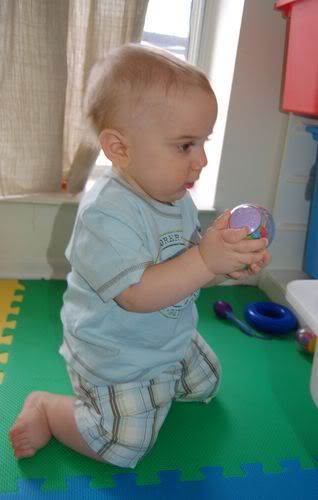 THE SHOCKER
I called out his name to get him to look at the camera and he just looked extremely shocked.

THE I'M NOT LISTENING TO YOU MAMA
The toys on the floor were clearly much more important then anything Mama has to say.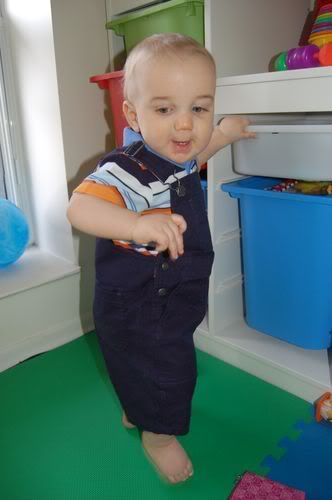 THE FINE I'LL FOLLOW YOUR DEMANDS
Finally he stops what he's doing and looks at me! Woohoo! So cute.

THE TEETHING SUCKS BIG TIME
Lately Jacob's been chowing down on anything he can get into his mouth!
Here come the teeth!

THE I'M POOPING IN MY PANTS RIGHT NOW
Ha ha….ok not really but you can just imagine it right?

THE CONTEMPLATING LIFE THE UNIVERSE AND EVERYTHING
Honestly Jacob don't do it….it's too confusing even to Mama!

THE OH MY GOSH MAMA ENOUGH OF THE CAMERA ALREADY!
This was our last photo of the day and it's my new favourite picture of Jacob.