I frequent some boards where we talk about Children's clothing and where and hot to get good deals on good quality clothes. Basically it's a bunch of mom's who all have the same hobby….SHOPPING!! Anyways, someone I'd consider a friend on that board posted that she'd love to get this shirt for her son because it was cute…it is right??? ALOT of people chimed in that they also thought the shirt was cute – but eventually it resulted in a full fledged debate because apparently the shirt is too sexualized for an infant with violent conotations and yadda yadda yadda….anyways this blog is not about debating….so I won't bore you all with the details but I wanted to show you all the shirt…..So here it is…..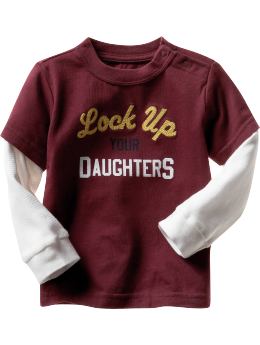 So then I got to thinking surely there must be some girls clothes made by gap that have sayings on them…..so I looked around trying to find posts on the other forums about gap shirts for girls and how inappropriate they are. Hmm….So I went to the gap site and found this shirt….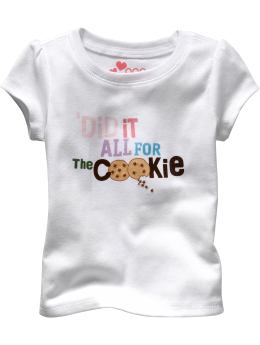 And so I ask you this…..since the boys shirt is demeaning to women and has sexual inuendo's…then what are those girls doing to get themselves the cookies? Explain it to me please. I still think there's a double standard when it comes to boys vs girls….nobody's complaining about the cookie shirt….silly.