I am officially on Vacation as of today (Monday) and truthfully I couldn't be happier.  Yesterday was a really great day – in fact the entire weekend was just a really awesome time with the family.  When we got up this morning we were surprised to find out that Victoria (The MIL) had brought us all fresh bagels with cream cheese!  Yum-O!  What a total delight!  After breakfast we packed up and went outside for a nice long walk with the wagon.  Jacob does so much better in the wagon now then last year!  It was so cute to watch him bumping along as Mama or Dada pulled him.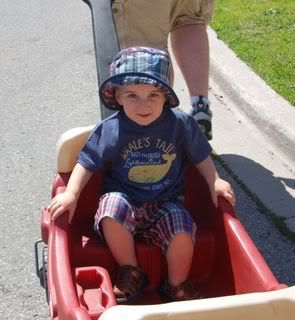 Along the way we stopped at Shoppers Drug Mart to pick up about 70$ worth of stuff that we needed for around the house and of course totally rocking cool curious george band-aids for Jacob!  One last stop at the bank and we were on our way again!
There's something so fulfilling, so rewarding and fantastic about carefree, unplanned days with the family.  I know that we'll have a lot less weekend family time then we did previously with my return to shift work so we are enjoying every moment that we have and how could we not when you have such a vibrant, smart, well behaved toddler like Jacob – his smile and character just brighten my day!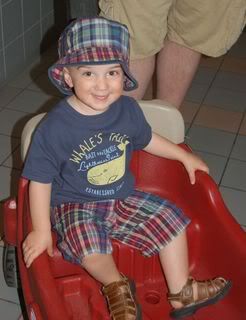 After Jacob went for a nap his Nana and Papa took him for a couple hours while Mama and Dada were off to dinner and a movie!  We had dinner at one of our favorite places – Montanas – then we hop skipped and jumped across the lot to the movie theatre to see the new Indiana Jones movie!  It was really a great movie and I'm glad we decided to see that one!