I woke up this morning feeling sort of drab and under the weather. Despite sleeping the entire night I still felt exhausted and suddenly the cold symptoms I had experienced earlier in the week were back to haunt me. Thankfully Mike took Jacob out of the bedroom and I was able to get a bit more sleep – Imagine my surprise when i woke up to find a beautiful bouquet of flowers in a vase next to the bed and cards from both of my boys!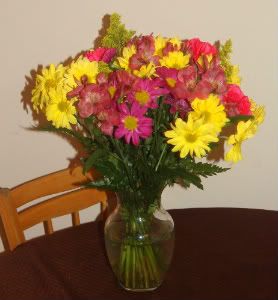 In my card from Jacob was a picture that he had drawn for me and his hand print which was of course so touching!  The best part was having both Jacob and Mike climb into the bed with me while I opened them.  t was a really happy togetherness kind of moment.  In Mike's card was tickets to see Avenue Q!!!  Yes!  I just am so happy because I've wanted to see this musical for the past year and have waited patiently for it to come to the big T and lo and behold Mike is going to take me! It's a date!  Truthfully while the presents were great it was not the real awesome part of the day.  In fact, we decided (I came up with the idea and Mike thought it was a good one) that we'd not do gifts the same way we've been doing them in the years to come.  I think we're going to go homemade gifts for things like mother's day and valentine's day!  It really has so much more meaning because clearly the best part of that gift was Jacobs hand print and picture!
I feel so blessed to be a mother.  I think that's what mother's day is really about in the end – a lot of mother's get caught up in the "it's my day to rest" and "it's my day to be thanked by my family" but that's not really what it's about for me.  I feel lucky and fortunate that Mike tells me constantly that I'm a good mom, that I am beautiful, that he loves me – I feel blessed to have a great partner for life and an awesome kid that brings such joy to my life.  Celebrating motherhood and the enrichment it brings to my life is really what it is all about!
We spent the day today visiting family and the day could not have been anymore perfect!  We had brunch with Mike's mother and Sister in Law ( Colin had to work) and then we had our own family time together in the late morning/early afternoon!  Jacob went to Nanas for a quick visit while Mama and Dada went home and baked a lasagna to bring back to my mom's house!  We all had dinner together (Mom, Danny, Jimmy, Mike, Jacob and myself) and feasted on lasagna, caesar salad, and garlic bread!  For dessert we had chocolate frozen  yogurt with strawberries on top!  Yum!  In the end we all sat around spending time together before caling it a night!  It was a truly great day!