Mike and I had always said we wanted our children close together and the initial plan was to have our children 18 months – 2 years apart – as the reality of parenting set in we realized that we'd like there to be about 2-3 years age difference between the children so we decided that May 2008 would be our first month trying to conceive a second baby for our family!  I have PCOS (Polycystic Ovarian Syndrome) and that coupled with the weight issues we suspected it would take a while to conceive and we were ok with that because we were focusing on organizing the house in prepareation for a move to a bigger place and we were going to focus on having a fit healthy summer!  In fact during the Month of May we realized we'd probably end up ovulating just after Mike's birthday so he wanted to "do the deed" on that day so that he could tell everyone that it was his birthday baby!  So we went for the gusto and afterwards we even talked a bit about delaying the trying to conceive process so we could enjoy the summer but lo and behold when good old aunt flo didn't make an appearance we purchased a pregnancy test (or three) and well this is what we were greeted with….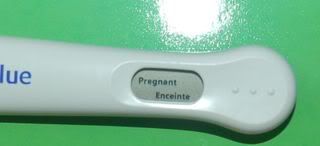 WE'RE HAVING A BABY!!
I couldn't believe it!  This digital test was of course the second test of the day because I was just in disbelief that it would happen so fast for us!  The first try!  Our first month of trying and we are pregnant!  I feel so blessed and grateful for this baby and I love it so much already!  Our estimated due date is about January 24th but dont' hold me on that because my cycles have been very very wonky lately.  Being pregnant again stirs up a whole whack of new emotions the first being the worry that comes with the first trimester!
When I was pregnant with Jacob I felt constantly worried and what I've learned from that is that you can only do your part (take good care of your body by eating well, taking vitamins, being active, seeing the doctor) and that if something "bad" is going to happen in  your pregnancy then it's going to happen.  I am trying to be more relaxed and laid back during this pregnancy so I'm going to journal about it in my blog and try to share my thoughts as we bake this lil baby! There's a catch tho….
Both Mike and I are keeping these blog posts private until we tell our family and friends, which we anticipate will be some time around 10 weeks pregnant because we'd like to get in to see the doctor before sharing the news.  We're already thinking up cute ways to tell the family and I've found a really cute t-shirt that I want to buy so that Jacob can be the one to surprise them I think!  So when these posts finally make public I want you all to know that we didnt' keep it a secret from you because we didnt want to tell you – TRUST ME we're both dying to tell someone!  We just want to do it so we're as stress free as possible during the first trimester….with me already having my weight working against me I want to keep my blood pressure down and focus on diet and good health! So Mom and Lisa and others – we want you to know..we just want to enjoy it by ourselves first!
So that's it folks we're having another baby!  Will it be a hamburger or a hotdog?  We dont' know but whatever it is we have lots of love to give and we're both really excited!