That's right you heard me correct!  We're having a totally rocking cars themed party for Jacob's 2nd birthday this year.  This year's festivities will be much smaller then last years an we're aiming to have less then 20 people present; hopefully the list will be primarily immediate family members and a few close friends.  Mike and I long debated whether we'd go with an elmo theme or a disney cars theme since Jacob really enjoys both of these things and in the end we decided on the cars theme.  Just last week I had two very interesting conversations with Jacob that went like this:
Me:  Jake are you going to have a super cool cars party?
Jacob:  No elmo party!!
Me:  *knowing we've already had cars movie themed invites made* But Jake don' t you think a cars party would be really fun?
Jacob:  No elmo party!
Mike and I exchanged glances and sort of laughed having thought we chose most unwisely because clearly Jacob wanted a totally rocking elmo party and not a totally rocking cars party.  The following day I conversed with the toddler sized party planner again.
Me:  Jacob are you going to have a yummy Cars cake for your birthday?
Jacob:  No yummy elmo cake!!
At this point I'm wondering how I couldn't possibly know that my son much prefers elmo to disney cars and feeling really ridiculous about the whole situation until Mike gets an idea and I try it out.
Me:  Jacob are you going to have an elmo party?
Jacob:  No cars party!!!
Me:  Jacob are you going to have a yummy elmo cake?
Jacob:  No yummy cars cake!!
I guess this is how it works in toddlerhood.  The rules must be that you respond with the exact opposite to what your parental units are offering.  I "think" we've got it figured out for now.
We had Jacob's invites made by a seller on ebay who we have shopped form in the past.  If you're looking to get themed invites for a totally affordable price check out the seller wrappersbynancy on ebay!  You won't be disappointed in her work!  Of course if you are digitally talented then by all means go on and make them yourself but for us we are both working parents and really didn't have the time!  Here's an example of Jacob's invite with our location blacked out so that real stalkers can't find us!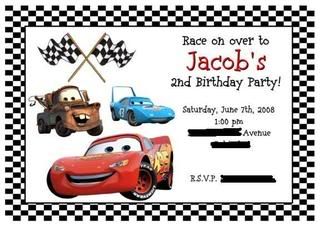 We're just waiting for the invites to arrive in the mail early next week then we'll be sending them out to all the invitee's!  Our hopes for the party are that it will be totally laid back in the yard with the barbecue!