Well the reason I didn't post this on Monday is because I wanted to wait until I was exactly 13 weeks and 3 days to say out loud….
I'm in the SECOND TRIMESTER!!!!  Woot!  Partay!  The pregnancy is now officially 1/3rd over!  Sweet deal if you ask me!  I'm thrilled about that and hoping that the second trimester will bring good health and NO morning sickness! ? Truthfully, I continue to have some good days and some not so good days and I'm looknig forward to more good days then bad days in the near future….afterall that's what the second trimester promises right?  I'm still not complaining much because like i've always maintained I believe that the aches and agonys of pregnancy are all part of growing a healthy little baby.
This week the baby is roughly the size of a peach….Yum I love peaches!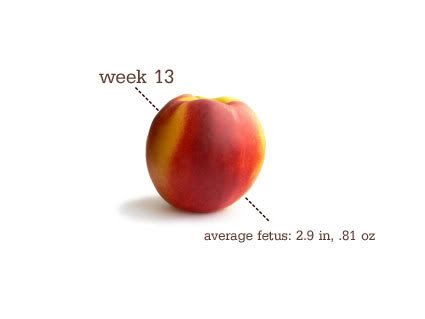 Last Thursday we had our first trimester screening which is a screening test for trisomy disorders and down syndrome. We were quite happy an anxious to get to see the baby again on ultrasound and it was a great appointment there at the ultrasond clinic.  The baby had a heartbeat of 150 and was moving around so much that our ultrasound pictures are just horrible!  Silly baby!  We watched the little bean kick its legs and wave its arms all around as if to tell us all hello!  So we of course said hello right back to the little sweetpea!  During the testing portion the scan looks at the fluid at the back of the baby's neck and gives a measurement in millimetres…our baby's fluid measured 1.7 – dont' ask me what a normal measurement is but if it helps at all Jacob's was 1.3.  Ater the ultrasound we were off to Mount Sinai hospital to get the blood work portion of the screening done and let me tell you….we waited nearly 2.5 hours to get our turn for that blood work!!!  The place was PACKED!  When it was all said and done we met up with my mother and had a nice lunch out together.
In other pregnancy related news we have started to slowly let the news leak out to the various important people in our lives.  After Sofia's party we were able to tell Lisa and Jim finally along with some other friends that were there at the time!  Everyone seemed really surprised and it was really fun to have Jacob wear his big bro t-shirt to surprise everyone!  Look how darn cute he looked in it…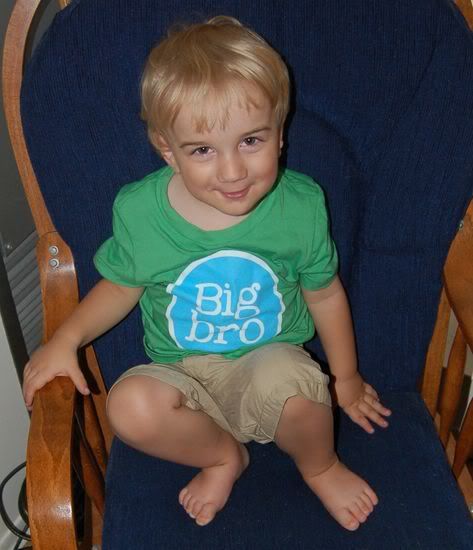 Mike told his father an some of his trivia buddies on Monday and this past Wednesday I told some of my colleagues at work; tomorrow I'm hoping to drive over to my dad's and surprise him.  I think by the end of the week I'll be able to make all my Super Secret Bloggy Posts all public!  Sweet deal once again!
So that's basically it for this week..
Here's some new important dates:
August 12th – Ultrasound and First OB appointment.
September 11th – Anatomical Ultrasound