Wow I havent' updated with any super secret bloggy posts in a while!  We just got back from camping yesterday and I'm happy to say that I survived in all my preggo-ness!  The biggest problem was that it was really very hot outside and the humidity was a killer!  I got over a lot of my fears about wearing a swim suit and did manage to go swimming a couple of times in the very public swimming pool at the campsite!  The water really helped me to cool down and keep my body temperature at a decent level.  The biggest struggle with being pregnant and camping is that I tend to pee 4-5 times per night and it was really a huge pain in the butt to have to walk in the dark across the campground to the bathroom.  Oh well..I survived!
Today I am 12 weeks pregnant!  Woweeeee!!  I can't believe we've made it to the 12th week of pregnancy already! I am really very cautiously excited to see this baby on Thursday at our ultrasound!  I am really hoping to go to the ultrasound an see our baby with it's beating heart and little arms and legs!  I feel like I'll breathe a huge sigh of relief after that moment.  I promise to update the blog with the news after the appointment because as long as everything goes well at that appointment I will be going public with the news that we are pregnant.  The baby continues to grow and this week it is as big as a plum!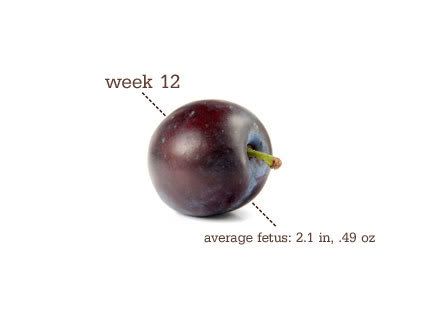 I can't believe how much the baby has grown since it was the size of a grain of rice back in the early days!  I still think being the size of a plum is pretty small but so big in comparison to when it all started out!  Mike continues to call the baby "rice" ever since the day we both read that the baby was as "big as a grain of rice" and I really don't love the nick name but he continues to use it.  Grrr.  I think he'll stop using it once we see the baby this week in the ultrasound and he can see that it is clearly bigger then a grain of rice now!  Well, I don't have any time to update more today….Jacob needs lunch and then I need to prepare for work tonight!  I'll update more soon!