Today I am 19 weeks pregnant!  Hooray!  While I was on vacation from work the week seemed to go by really slowly but I think with me going back to work this week things will start to pick up again.  I'm not sure if it was the vacation or the fact that I am more deep into my second trimester now but I am really starting to feel better.  Slowly but surely I've been feelin the nausea slip away (knock on wood) and I've been having more energy to do things that I was putting off during the first 17 weeks of being pregnant.  I haven't thrown up in in near three weeks which is pretty decent and the dry heaving issue I was experiencing seems to have slowed drastically which leaves me feeling pretty content at this point!  Anything is better then what I was experiencing between weeks 7-14…those were definitely the worst days.  As you may recall I spoke last week about some back pain I was experiencing but it seems to be alleviated because I can't really complain about it this week; what a relief!  The only thing that I really can complain about right now is that I've been having a lot of headaches which I've been able to manage without pain medicine!  YAY ME!  I feel really proud of myself when I can do that!  Oh and the heartburn!  We can't forget the heartburn!
This week the baby is as big as a mango! Must be a really big mango!  LOL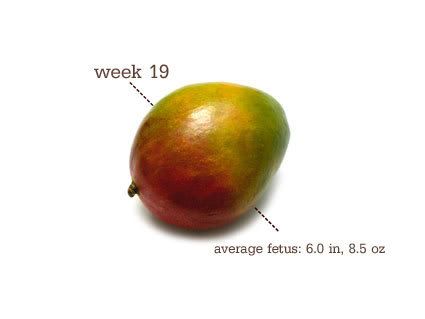 The cool thing that has started happening this week is that I've finally started to feel movements from the baby that I'm certain are the baby.  I know they are just rolls and not kicks or punches but I am really able to know when its happening because of my pregnancy with Jacob.  I'm certain I've felt them from time to time over the past couple of weeks but now I'm feeling it about one or two times a day which is great since I didnt' feel Jacob until around 24-26 weeks pregnant!  Darn anterior placenta!  I'm really happy that I have a posterior placenta this time around.
Last weekend babies r us was having a baby sale so we went and picked up a few items that we needed for this baby.  We got a Joovy Caboose Sit and Stand stroller which will be perfect for the baby and Jacob and it was nearly a hundred dollars off the regular price!  I was really surprised and excited when my mom offered to buy it for us!  My mom also got us a new infant to toddler rocker (bouncy chair thingy) since the last one from Jacob was REALLY well used and we decided when we were putting it away that we would get a new one for a second baby!  It was regular price 59.99 and it was on sale for 20.00 so HOORAY for the great deal mom got on it!  We also picked up a new fisher price play mat because the one we had with Jacob ended up having a bad battery acid leak and definitely needed to be replaced for a new baby.  We decided to get a diaper genie this time since the baby will have its own room and we really detested the smell that came from the diaper pail we used last time so we picked it up when it was on sale and three refills for it which were only five dollars each!  The last thing that we picked up was a case of size 1/2 diapers from Costco because diapers were on sale this week!  I was pretty impressed with our budget savvy purchases!
So there you have it!  That's my 19 week pregnancy update!  This week we have an ultrasound on Thursday and a prenatal appointment on Friday!  Wish me and the peanut good luck!