Yesterday was a family reunion at my Aunt Kelly's house and it was really nice to catch up with my mom's side of the family, many of whom I had not seen in some time. I was feeling particularily excited about Jacob playing with his second cousins and was curious to see how he interacted with other children his age. I know it sounds crazy but the only other child we really have any association with at this point is my niece Sofia who is 15 months old and on occasion Jacob will interact with my brother's friends son who was born just 2 days earlier then Jacob on June 7th. I have not had a lot of opportunity to teach Jacob about appropriate play, how to be respectful and share toys so I was particularily anxious about how he would be able to interact positively with his two second cousins who are also 2 years old. I have to say that I was very pleasantly surprised by his interactions and proud that he really did not struggle to share toys and refrain from hitting or fighting with the other children. Jacob LOVES to play and I think the only time he got slightly upset was when the other children were done playing and he really wanted to play with them. It was so cute when he came up to me and said "Mommy, Noah doesn't want to play with me" and I had to explain to him that he could go play and Noah would join him when he felt like playing again. I was really impressed with how well behaved he was for the entire night and how he needed very little redirection or interaction from Mike and I and it makes me feel hopeful that he's going to interact well with a sibling in the house. Here's some pics with the cousins!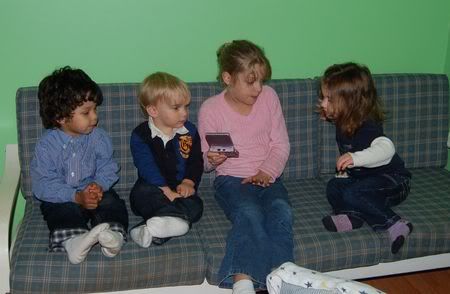 This next one is not the best of Alexandra (I think she's looking down at the game boy) but it's still cute and she's just a beautiful girl always!
Having the opportunity to see the family was really great and we don't get to do it near enough and while I often have difficulty with being shy and not wanting to "get into the conversations", I have to say that I was pretty impressed with myself and how relaxed I felt hanging out with my family members just chatting and eating good food! Everyone who knows me knows I absolutely am not a fish fan and especially I do NOT like salmon but with forceful effort from Mike I tried my aunt's salmon dip on a cracker and oh my gosh I LOVED IT! Seriously….I am in big trouble because I woke up this morning craving it! I need to send her an email and get the recipe so I can make it here for Mike and I and also at our Christmas dinner as an appetizer! Mmm…I want more!