The countdown is on and we're in the final stretch until we meet our baby! I can't believe that in just 8 days this whole pregnancy experience will be over. I have to say that despite the morning sickness and exhaustion it's been a wonderful pregnancy this time around and I'd never have believed in the beginning that I'd still be pregnant at 37 weeks. We are delivering this baby at 38 weeks 1 day and while everything in my heart wishes the baby could just come on her own, i have faced the idea of the c-section and feel ready to go. My anxiety levels are at their peak right but I'm certain that the peak will only raise higher until the moment that I'm sitting in recovery holding my baby girl. Despite the fact that my pregnant days are dwindling, I'm actually feeling pretty decent! Of course I'd love to have less hip discomfort and I'd pay for a good nights sleep but overall I can't complain too much as I'm certain that it could be far worse then what I'm experiencing.
Yesterday Mike and I went out and purchased the remaining items we needed for the baby's room and while it was quite pricey we now believe we have everything we need for when the baby comes home (aside from one sage canvas bin because they were sold out). Yesterday we picked up the change pad for the dresser combo, a baby monitor, Dr. Brown's bottles, breast milk storage bags, diaper rash cream, 2 pink square canvas bins, 1 sage square canvas bin (need one more), 1 sage and cream Canvas tote for the closet, and a breast pump. We are really hoping that I will have a great milk supply this time and that we'll get to return the breast pump so we've put it aside with the receipt and we won't open it unless we have to.
The house has gotten a bit disorganized in the past couple of days because we've been so busy with the shower that was thrown for me and doing all of our errands yesterday (babies r us, groceries, costco) but despite this Mike was able to put together our new stroller, set up our old pack and play and put together the swing we got from my mom's storage. We also spent some time together putting together our play mat for tummy time and getting our car seat ready to go….complete with our new pink bundle me bag! I started packing the baby's bag which I just need to add a few more things and its ready to go! I am hoping that at some point today I can find the energy to do some laundry and organize some stuff but I seriously doubt I will because quite frankly I'm feeling pretty tired today and I think I'm coming down with a cold just in time for delivery! Ha! I love the universe and how it works!
I'm currently working on a big brother present for Jacob from the baby so I'm hoping to get to Walmart this week at some point to get him a new story book and some new pajamas for when he sleeps over at Nana's house the day of delivery! We already picked up a small wonder pets suitcase on wheels for 14.99 just prior to Christmas and a wonder pets DVD so we'll just add the story book and jammies with a few of his favourite snacks and I think that is a wonderful gift that he'll enjoy! I've been so sad for him the past couple of days because I am realizing how unprepared he is for this baby to come home despite that fact that we've been trying to prepare him for so long now (but more on that in a future blog post). I just hope that he does ok next week during this whole transition….we've tried to make the transition smooth by having Mike's mom watch him at our place during the delivery because that's totally what the norm is for him….time will tell I suppose.
I can't believe its almost over! It seems like so long ago now that we were anxiously watching the pregnancy test to see if we had "sealed the deal" so to speak! Remember this picture?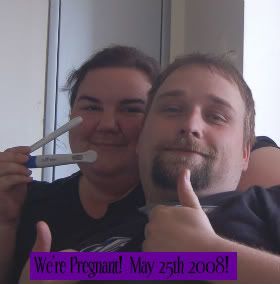 Wow! May 25th 2008! It's now January 2009 and it feels like so much time has passed so quickly! I have my biophysical profile tomorrow and then what will probably be my last appointment with my OB before delivery. Crazy!