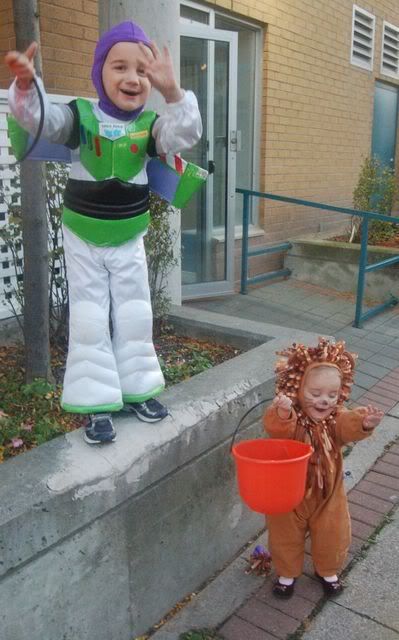 What can I say?  Both of my kids were insanely excited about trick or treating around town last night. I had my hesitations and anxiety about whether we'd be able to get Jacob into his costume since he refused to wear it to school on Friday and was pretty much the only child in his class not wearing a costume.  Needless to say there's something about filling up a pumpkin bucket with candy that got him raring to go.  Just hours before our departure Jacob proudly proclaimed that he would not stop trick or treating until he had 100 candies in his bucket and I, knowing my son all too well, envisioned pit stops with us sitting on the roadside counting out each candy until he had met his goal.  Thankfully, it did not go down like that and I'm pretty sure that what ended up in his bucket was far more than 100 candies and I think he was sufficiently impressed with his "haul".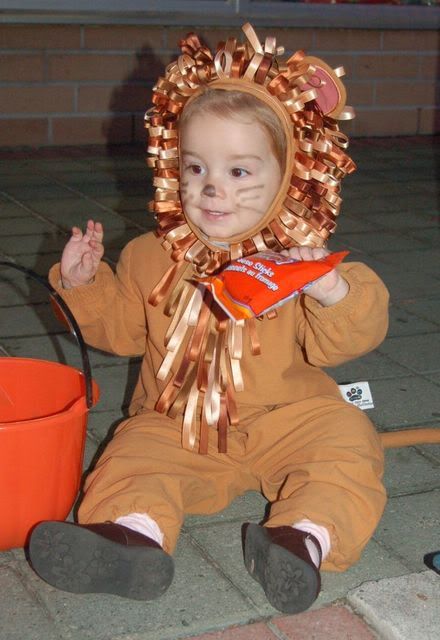 I haven't seen a  Halloween as cold as last night in years and sadly the frigid below zero temperatures forced Violet out of her cute lady bug costume because I could just not subject her to the tutu and tights she was supposed to wear.  Luckily for us Jacob's old lion costume (one of my personal favs of all time costumes to love) was ready to make an appearance and Violet proudly roared her way around our neighborhood…literally.  It was a missed bag of tricks for our littlest creature because she being a few days behind in the cold that we've been sharing with each other was not feeling too fantastic.  After about an hour outdoors going door to door she had had enough and we knowing it was well past her bedtime took her home for some rest…..well daddy did and I stayed out tormenting the  neighborhood with Buzz Light Year. It was fun to watch Violet and quite curious to see her chose the times when she would thrust into her shyness and the times when she would becoming this outgoing little being we've yet to really see – she adored the thought of candies and chips being put into her bucket even though she had no idea exactly what she was getting….how I relish these days with my children.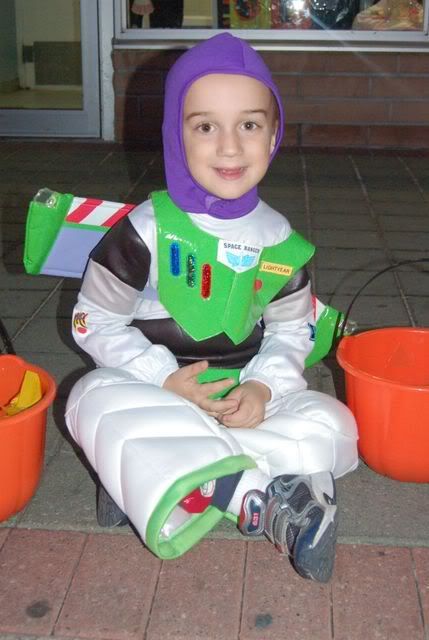 What more can I say about my 4 year old with the brain of an 8 year old that just continues to amaze me every day of the school year.  After Violet went to bed I spent another hour outdoors with him and our friends Kara and Liam roaming the town in search of more edible goodness.   I found such joy in watching him run from doorstep to doorstep and chuckled quietly when I'd hear someone say "hey look it' s Buzz Light Year" and Jacob would respond with "no it's Jacob….i'm just wearing a costume"….that is my boy – totally.  I was worried about his asthma and the lingering cough that has been bringing him down over the past week but it was a great night and we had so much fun together without daddy.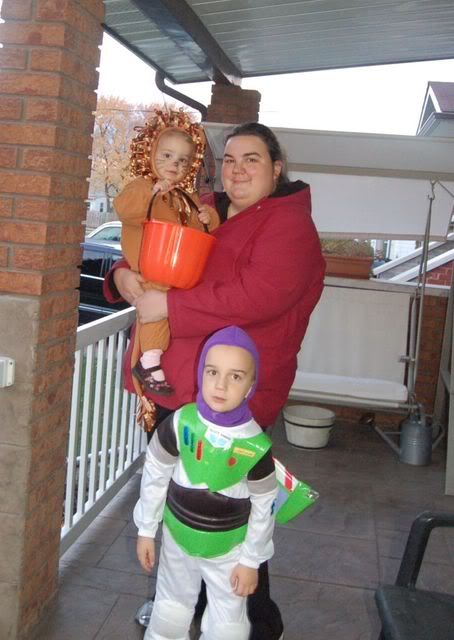 When we got home, Jacob and I, we sat down and went through every single Candy in the great big bag and got rid of anything that contained peanuts or nuts or that had been manufactured in a facility that processed nuts or peanuts – it was our first Halloween managing Violet's allergy and Jacob gave up his non-safe treats without even blinking his eye.  When all of the sorting was said and done…..we allowed Jacob to eat an unreasonably reasonable amount of candy, brushed his teeth and sent him off to bed.  I have no issue with my kids going nuts and drowning themselves in treats on special holidays because we just don't fill ourselves up with them on regular days…….and Jacob was very selective about what he did it anyway – all in all a great Halloween…can't wait for next year.